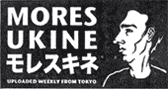 Moresukine >>>
Dirk Schwieger lived in Tokyo 2006, had a comics blog where he had people dare him to try all sorts of different things, exotic, disgusting, revealing, whatever!
The comic was printed 2007 by the german edition reprodukt and 2008 at NBM-pubishing/US:
Library Journal: "Highly Entertaining. Amusing look at many aspects of life in Japan."